IT INFRASTRUCTURE SOLUTIONS
Modernise your IT infrastructure for enhanced performance and scalability
Organizations today, require flexible and reliable IT solutions. With new technology continuously emerging, data and IT are among the most critical business assets today. Pathcom create next generation IT infrastructure services and modernize processes across complex landscapes to enable your business success.
FOCUS ON GROWING YOUR BUSINESS WHILE WE TAKE CARE OF YOUR INFORMATION TECHNOLOGY INFRASTRUCTURE, CLOUD COMPUTING AND MIGRATION, DISASTER RECOVERY, DATA STORAGE SOLUTIONS, AND IT STRATEGY NEEDS." IF YOU HAVE IT INFRASTRUCTURE, DATA STORAGE, SERVER, NETWORK, SOFTWARE, OR OTHER IT HARDWARE SOLUTION NEEDS, PATHCOM CAN WORK WITH YOUR ORGANISATION.
From legacy architecture to new and emerging technologies, Pathcom has the IT infrastructure solution and services expertise to take you from planning and design through product sales, implementation, solution and systems integration, and post-sales support. Pathcom is able to meet and exceed the ever-increasing demands of today's IT landscape. We are experts in pairing up the top IT infrastructure technologies to meet each client's specific need. We are also vendor-agnostic, which means we put your business interests in front of pushing unnecessary IT infrastructure hardware and solutions.
PATHCOM'S IT INFRASTRCTURE SERVICES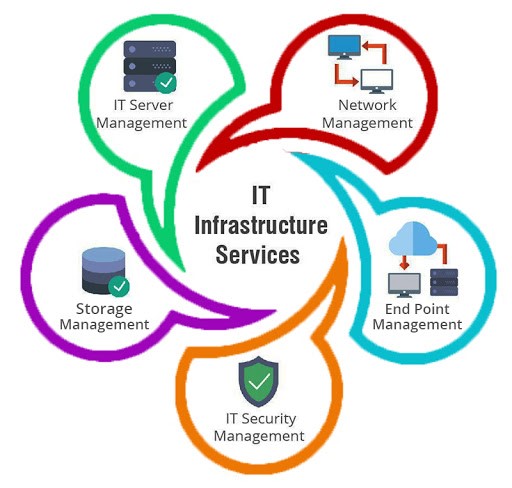 Pathcom Technologies provides predictable cost and time, mitigates technology risk and resource usage and builds partnerships with satisfied and loyal clients.
Today's emerging business environment makes it imperative that the IT infrastructure requirements align with your business needs.
Pathcom's infrastructure teams deliver end-to-end, effective and reliable solutions that can transform your business operations.
We deal in installation, migration & support of below,
Since we are vendor-agnostic, we work with all major and proven OEMs and customer specific OEM to deliver the best IT infrastructure hardware and solutions.
Our IT Infrastructure Services, helps a business on many fronts, bringing out its strengths, rectifying its weakness, making the system efficient, and helping it grow and expand. These pointers only further reinforce the widespread belief. It is thus safe to conclude that an IT infrastructure is, indeed, the heart of a business.
It helps you make a more informed decision
It helps you minimize disaster 
It helps you enhance the experience of users 
It helps you increase productivity 
It helps you reduce costs