VIDEO SURVEILLANCE & SAFETY SOLUTIONS
CCTV are turned out to be a 24×7 operational 3rd eye which always sees and records everything which helps in preventing crimes and safeguarding the places. Also, first line of security that comes to mind may be an effective & Operational CCTV surveillance system.
Pathcom is a turn-key System integrator of video surveillance. We design, supply, install, customize, and support surveillance camera system. Our turnkey solutions are to create safe campus, safe city, safe building, safe public areas, safe home by addressing the requirements of all types of industries, including Schools, Healthcare, Banks, ATMs, Parking Lots, Parks, Government Properties, and more.
Our services are not limited to any one type of business as we will be able to provide a best possible surveillance system for your business, no matter what you do. Our experts understand choosing the best Solution to safeguarding all that matters most to your industry or business.
You can count on our experienced team of system design experts to work with you to design and deploy a high-performance surveillance system. Whether you're looking for a retail surveillance system, Enterprise Surveillance system, Campus Surveillance System or CITY Surveillance System, we can lead you in the right direction of Solution, Implementation, Maintenance & Support.

The various components we provide as part of surveillance solution include below, depending on customer needs
IP/HD/4K DOME/BULLET/PTZ, PANORAMIC Cameras
Fixed/Varifocal lens Cameras
NVR/DVR/NAS/SERVER based Storage
Monitor/Display Systems
Video Management Software (VMS)
Monitoring & Video Command Center
Fiber, Wireless Network Creation
Pole Erection, UPS Installation
Installation & Support
Project consulting
Systems Integration
User Training
There is a lot that goes on in any city on a day-to-day basis. Our modern cities need to be protected by state-of-the-art security and surveillance solutions which act as a deterrent to any unlawful activities and provides evidence against law breakers. It is also imperative to centrally monitor the traffic inflow, control and manage traffic violations and proactively monitor every vital junction of our city roads.
We offer a wide range of surveillance and management solutions for cities and townships including:
Intelligent Monitoring and Surveillance Solutions
Central and Zonal Command and Control Centre
Video Management Systems
Video Analytics & Automatic Number-plate Recognition System (ANPR)
Disaster Management and Emergency Response Solutions
CCTV Network Creation of OFC & Wireless
CCTV Network & System Monitoring
Project consulting, Systems Integration & User Training
Central Management or Monitoring system is a system which can connect all the cameras and third party devices located at multiple locations or sites at a central hub. Through CMS, you can view, control, receive alerts & notifications from any camera or third party device, located anywhere in the system and take pro active decisions.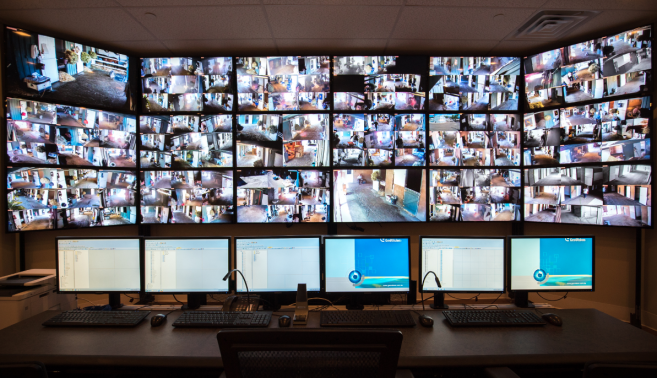 In the view of rising crimes, safety and security is of utmost importance for any organization. What enterprises or Government require today is not just generic video surveillance that will be used to investigate the event after it has occurred. In order to safeguard citizens, employees and expensive assets from damage, it is extremely critical to choose the right security system. Video Management & Monitoring System for enterprises and corporates is a smart solution with real-time alerts, thus enabling you to take timely action and prevent damage rather than investigating at a later stage.
Video Surveillance Management solution specifically designed to meet diverse and complex needs of large enterprises having multiple sites connected to a central location or a large, single site which mainly build on,
Centralized Management and Control
Preventive Safety and Security
Integration with Peripheral IP Systems
Centralized Video monitoring of Unlimited cameras spread across multiple branches and cities
Local recording at branch with High Quality Video and Low bandwidth streaming to Central station.
Groupings based on Branch, City, State, Country, Sensitive, Important branches.
Alerts in central station according to rules.- Email, SMS, Sound alert and Video Pop-up.
Option for Video Analytics alerts: Camera Tampering, Intrusion in branch, Missing object, Perimeter Violation, Image Enhancement.
E-map showing status of all cameras and alerts- camera alarm, Connect and Disconnect Status.
Alarm and Device status reports on hourly ,daily weekly or monthly basis
Digital Zooming and Graphical maps
INTELLIGENT FEVER DETECTION SYSTEM (iFDS)
Automated Temperature Detection
Built-in Infrared Thermometer
Facial Recognition for Access Control
Central Remote Management
5″ IPS Screen for information display
As a part of our total solution offering, we offer wide range of door solutions using RFID, Biometric, Face Recognition and Keypad either stand alone of in combination. We also offer remote controlled based gate access solutions.
Automation is the linking of distinct system and software in a way they become self-acting or self-regulating. Automation security system gives you access to control devices in your home, office or from a mobile device anywhere.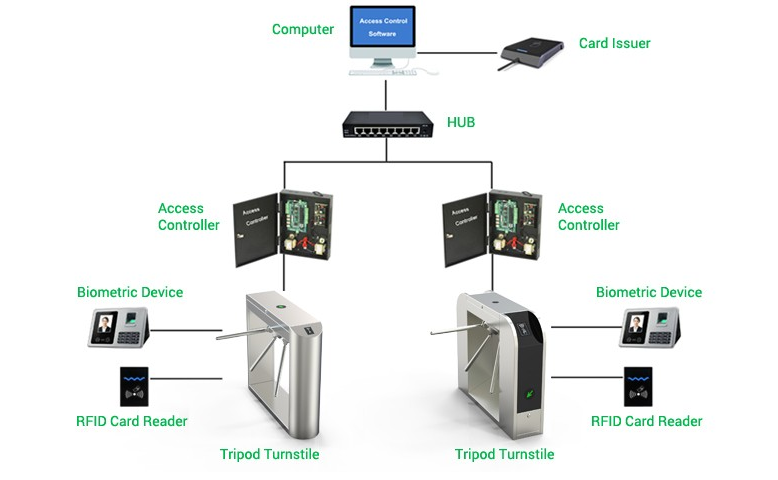 Access control, workers time attendance, biometric identification, facial recognition, voice authentication
GSM alarm system (motion detector, intruder alarm)
Fire alarm system
Remote motorized gate, garage gate,
Toll booth barrier, boom barrier ,turnstile
Perimeter protection
Intelligent car parking
Tracking device
AUTOMATIC FIRE EXTINGUISHER
Fire is power but sometimes, it strikes without any warning inside our homes, offices, schools and so on. According to experts and fire researchers, 80% of indoor fires occur in night times, weekends or the days when no one is around. An automatic fire extinguisher that stops the damage and creates less mess is needed in order to lead the fire out safely.
PATHCOM brings you Fire RID extinguishing solutions that offer you round-the-clock protection against damaging fire that occur without any call.

When it is important to protect people, valuable facilities and items with automatic fire extinguisher that provides immediate response and have great extinguishing power along with ecologically features, Fire RID is a first choice. It meets all this demands and even more.
Fire RID is an automatic fire extinguisher which activates and extinguishes fire when the solution reaches the temperature of 84°C.
The glass ampoule automatically break , the dispersed solution instantly extinguishes the fire and eliminates smoke in extinguishing area.
Solution remains on the extinguished surfaces as a coating which prevents re‐ignition.